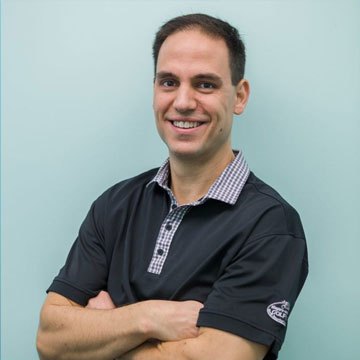 Chiropractor
Dr. Cameron Edgar was born in Edmonton, Alberta and graduated from the University of Alberta with a Bachelor's degree in Biological and Physiological Sciences.
After moving to Toronto to complete his Doctor of Chiropractic degree in 2005, he pursued further postgraduate education in Contemporary Medical Acupuncture from the De Groote School of Medicine at McMaster University.
Certified in the Active Release Technique, Dr. Edgar has a special interest in sports therapy and post-injury rehabilitation. Dr. Edgar believes that education and proper communication are imperative to patient care.
"When people understand why their pain or dysfunction is occurring, it enables them to make the changes necessary to correct the problem at hand."
He now lives with his wife Maja in Burlington and in his free time, enjoys playing many different types of sports including basketball, ultimate frisbee, and golf.
"I have always had an interest in the human body and helping people. Chiropractic was a perfect combination of the two."