GET TO KNOW US
Our Story
In our downtown Burlington clinic, we are hoping to create a warm and healing family environment where we can take care of our patients and their families with a natural and gentle approach to optimal health.
We are a husband and wife team specializing in the diagnosis and treatment of disorders related to the skeletal, muscular and nervous system. Our goal is to get people feeling better as fast as possible and to give them the right tools to avoid future injury by becoming proactive and more educated about how to take care of themselves and their bodies.
For several years we have specialized in the areas of acute and chronic neck and back pain, sports injury, pregnancy care, motor vehicle accident and work related injuries.
We continuously keep up with current research and we continue to broaden our knowledge and improve our skills so that our patients get the best possible care. We will make sure to find the source of the injury, not the symptom of the injury, and will do our best to find a clear diagnosis and give you a careful explanation.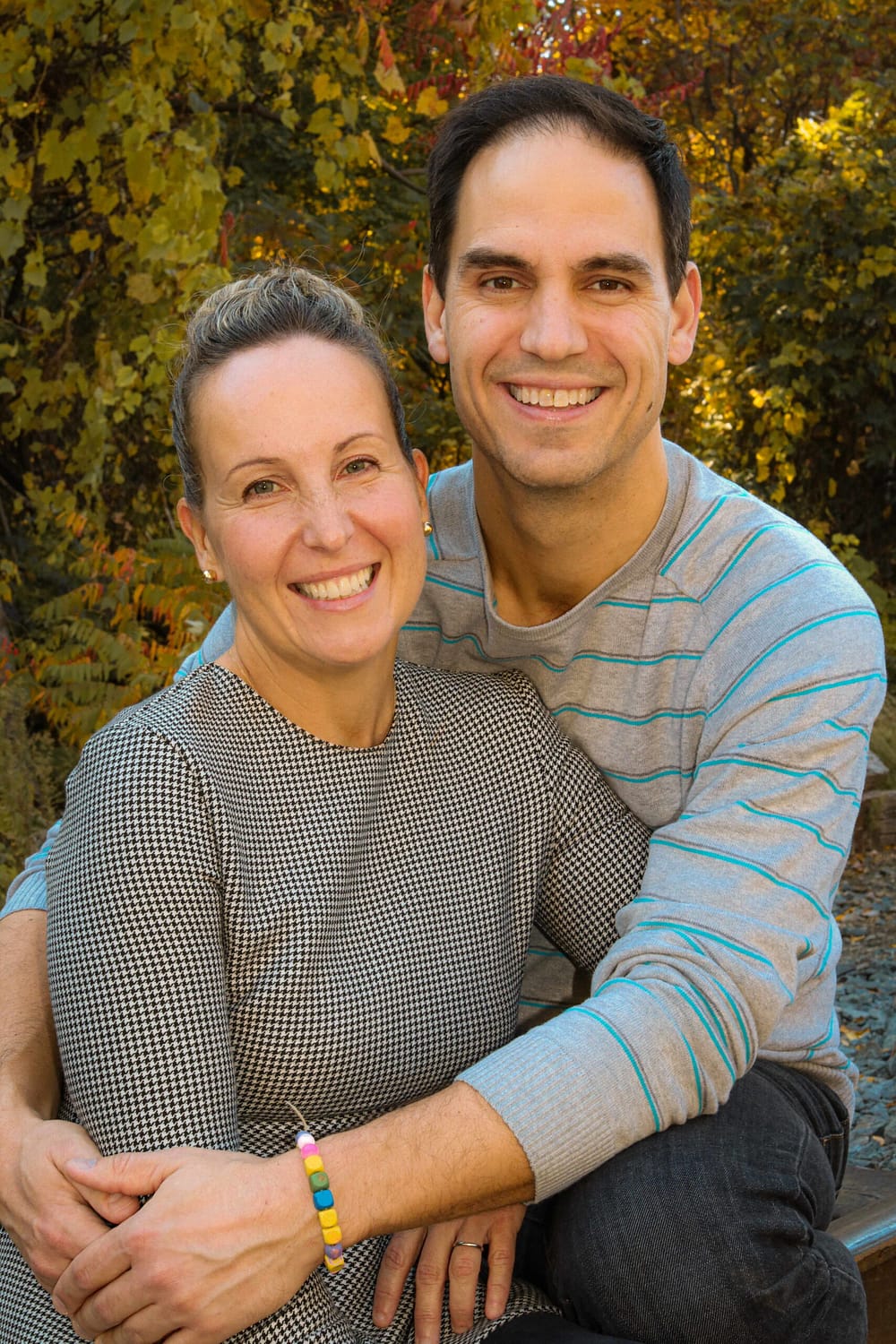 Meet the Edgar Family
Chiropractic Team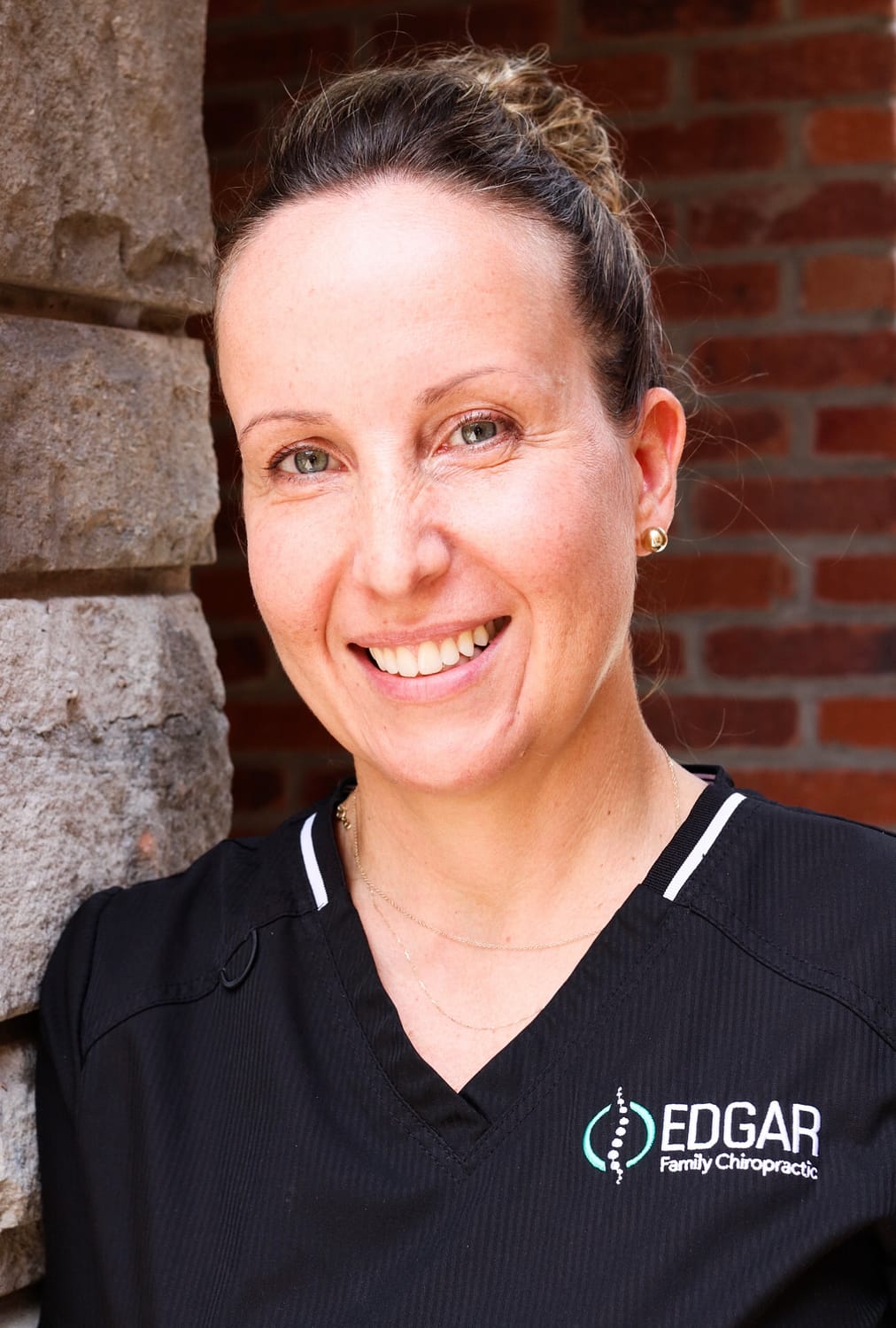 Dr. Maja Edgar
Dr. Maja Edgar immigrated to Canada with her family from former Yugoslavia when she was eleven. She had an interest in health from an early age and was always fascinated by the human body and mind. She went on to complete a degree from the University of Toronto specializing in Biology and Psychology.
Seeking chiropractic treatment herself during her dance training, she realized that this is what resonated with her views of health and well being, and it prompted her to pursue her chosen profession.
She graduated with a Doctor of Chiropractic degree in 2008 and has also completed post-graduate training in Medical Acupuncture from the Michael G. De Groote School of Medicine at McMaster University.
A member of the International Chiropractic Pediatric Association, Dr. Edgar has a special interest in the areas of chiropractic that include pre and postnatal pregnancy care.
From newborn to adolescence to adulthood, Dr. Edgar uses techniques specific to the individual to bring balance and health to the spine.
Dr. Edgar routinely makes recommendations for patients to establish a self-care routine and encourages her patients to be active participants in maintaining their health.
She is currently living in Burlington with her husband Cameron and in her free time enjoys keeping active through yoga, running and swimming.
Dr. Cameron Edgar
Dr. Cameron Edgar was born in Edmonton, Alberta and graduated from the University of Alberta with a Bachelor's degree in Biological and Physiological Sciences.
After moving to Toronto to complete his Doctor of Chiropractic degree in 2005, he pursued further postgraduate education in Contemporary Medical Acupuncture from the De Groote School of Medicine at McMaster University.
Certified in the Active Release Technique, Dr. Edgar has a special interest in sports therapy and post-injury rehabilitation. Dr. Edgar believes that education and proper communication are imperative to patient care.
He now lives with his wife Maja in Burlington and in his free time, enjoys playing many different types of sports including basketball, ultimate frisbee, and golf.

Dr. Alisha Nachman
Dr. Alisha Nachman has a passion for chiropractic that has spanned her entire life. Born and raised in Oakville, Alisha grew up as a classical ballet dancer, training at a professional level. She sought chiropractic care at the age of 11 after sustaining a neck injury during a ballet rehearsal. Amazed by the treatment, Alisha decided during that first visit that one day she would become a chiropractor. Dr. Nachman attended McMaster University where she completed a bachelor's degree in Kinesiology with Honours and a minor in psychology. She then attended the Canadian Memorial Chiropractic College (CMCC) where she earned her Doctor of Chiropractic degree with clinic honours.
Alisha is a strong advocate of chiropractic adjustment offering both spinal and extremity manipulation along with cupping, manual therapy, muscle release therapy, and rehabilitative exercises. Dr. Nachman focuses on patient-centered care, making each individual's goals for treatment a priority. Alisha also enjoys educating her patients on injury prevention and hopes to inspire healthy, active living.
In her spare time, Alisha loves to be adventurous and explore the world. When she is not travelling you can usually find her training hard in a ballet class, photographing nature and the night sky or playing with her adorable dog Lola.
Adriana Gomez
Registered physiotherapist
Adriana is a Registered Physiotherapist with the College of Physiotherapists of Ontario with over 20 years of experience in clinical practice. She completed her Masters of Physiotherapy specializing in Sports Injuries, Manual Therapy and Pregnancy. Prior to this, she graduated with a Bachelor's in Sciences.
Adriana's passion is to help others achieve their personal goals in recovering from injury. Her main objective is to optimize function and enhance physical performance in patients. She believes that through a comprehensive assessment and a hands-on treatment combined with an individualized exercise program; she and her patients will achieve mutual goals. Education is in each and all of her sessions; so patients have a clear understanding of their rehabilitation process, prevention of future injuries and proper expectations.
In her spare time, Adriana enjoys spending time with her husband, her 12 years old boy and close friends. Outdoor activities, Running, yoga, pilates, crossfit, and reading whenever she can are her passions.
Chelsey Scowen
Registered Massage Therapist
Chelsey is a Registered Massage Therapist, graduating from the Ontario College of Health and Technology, and a Certified Athletic Therapist (CAT(C)), graduating from Sheridan College with a Bachelor of Applied Health Sciences, Athletic Therapy.
Chelsey specializes in:
Deep muscle therapy
Swedish massage
Joint mobilization
Myofascial release
Proprioceptive neuromuscular facilitation
Sports massage
Remedial exercise
She has also worked with specific populations, including professional athletes, pregnant women, and seniors. In addition to working at Edgar Family Chiropractic, Chelsey also works as an Instructor and Clinic Supervisor at the Ontario College of Health and Technology in the Massage Therapy program and is doing fieldwork with sports teams as an Athletic Therapist.
Born and raised in Burlington, Chelsey enjoys spending time downtown at Spencer Smith Park with her husband, 1-year-old son, 4-year-old stepson, and husky, as well as hiking, golfing, skiing, cooking, and reading.
Crystal Alford
Registered Massage Therapist
Crystal Alford is a Massage Therapist from the Canadian College of Massage and Hydrotherapy, class of 2014. She is a Massage Therapy instructor at Oxford College in Burlington, covering a variety of classes including Anatomy, Physiology, Orthopaedic Assessments and Massage Techniques & Treatments. Along with her intensive training in Swedish and Deep Tissue Massage, Manual Lymph Drainage and Myofascial Release, she has additional education in pre/postnatal care as a Registered Massage Therapist. In her spare time, you can find Crystal reading, travelling and spending time with her family.
Istvan Szilak
Registered Massage Therapist
Istvan Szilak is a Registered Massage Therapist with a passion for health, anatomy, and physical activity. Istvan has recently completed Mohawk College's Advanced Diploma Massage Therapy program and has over 8 years of experience with Strength and Conditioning training.
His passion and personal experience with the amazing sports of Basketball, Volleyball, and Strength and Conditioning training have given Istvan hands-on, personal experience that allow him to apply this knowledge toward his self-care and rehabilitation treatments.
Istvan's goals in treatment are to develop a thorough understanding of each client through detailed hands-on assessments to create personalized treatment plans to help increase mobility and functionality and improve pain management. Whether your preference is relaxation or deep tissue, Istvans' technique is very thorough and able to locate difficult trouble spots. Using Swedish massage techniques, fascial work, trigger points, and stretching, Istvan will work with you to ensure your best comfort and outcome for each treatment.
Included in his working history, Istvan has had experience working with the Hamilton Tiger-Cats, Hamilton Police, and many specialized outreach programs such as Dr. Bob Kemp Hospice, and the Adult Recreation Therapy Centre. He is excited to continue his involvement in future community programs and strives to challenge himself to improve by taking courses to remain current and up to date in the fitness and health field.
Contact our Clinic today at 289-337-1202