Edgar
Welcome to our Burlington Chiropractic Clinic

If you are looking for a reliable and trustworthy chiropractor in Burlington, we are a one-stop solution for all your health and wellness needs
READ MORE
Family Chiropractic
YOUR LOCAL CHIROPRACTOR CLINIC IN BURLINGTON
Are you looking for a Chiropractor in Burlington, ON? Call Edgar Family Chiropractic now at (289) 337-1202.
We have created a warm and caring atmosphere for our patients and their families with a focus on treatment to improve function, and the goal is to get our clients feeling better as soon as possible.
Our team of specialized and knowledgeable professionals follows a multi-modal approach to treatment (that lasts approximately 30-40 minutes depending on the medical condition). It involves the use of various techniques in one single treatment (such as muscle therapy, mobilizations, physiotherapy modalities and exercise prescription, to name a few). Following this approach, our clients get better faster and stay better for longer periods.
Our award-winning clinic is also a fully integrated facility providing chiropractic treatments but also registered massage therapy, physiotherapy, medical acupuncture, pregnancy care and prenatal massage, and sports rehabilitation.
Our Treatments
Chiropractic
Care
The purpose of chiropractic adjustments is to add movement to joints that are otherwise not moving well (or are "stuck").
Medical Acupuncture
A method that promotes natural healing and improves the functioning of your body. Based on traditional Chinese medicine.
Physiotherapy –
Physical therapy

Physiotherapists diagnose, manage, and treat disorders and injuries of the musculoskeletal system.
Pregnancy
Care
Chiropractic Pregnancy Care is a very safe and gentle approach to helping women with the aches and pains that sometimes come with pregnancy.
Sports
Rehabilitation

Sports therapy requires a very comprehensive treatment that we regularly offer here at Edgar Family Chiropractic.
Custom Orthotics

Professional Burlington Orthotics and Foot Care for the Whole Family.

Registered Massage Therapy
Massage Therapy involves the prevention and treatment of physical dysfunction and provides relaxation to the body as well as the mind.
Custom Braces Compression Hosiery
We carry Bauerfeind professional bracing and compression hosiery.
From professional athletes to weekend warriors, these braces help to assist and improve a variety of conditions such as tendonitis, inflammation, osteoarthritis and many more!
Back
Pain
Chiropractic neck pain treatment, along with the treatment of back pain, uses hands-on muscle therapy and mobilization to help the body heal faster.
How Can Chiropractic Care Help You?
If you have been experiencing pain or discomfort in the neck, shoulders, or lower back, you can be sure that you will find relief at our award-winning family Clinic in Burlington. The major goal of a chiropractor is to take on an effective holistic approach in assessing the musculoskeletal system and then fix any dysfunctions that are causing pain or impeding function.
According to the June 2019 Canadian Pain Task Force Report, one in five Canadians lives with chronic pain. Chiropractors are crucial in helping people to feel less chronic pain and therefore improve their quality of life. Drs Maja and Cameron Edgar, have been consistently voted number one in the category of "Best Chiropractor in Burlington" according to the annual Reader's Choice Awards. We have been voted the "Best Chiropractic Clinic in Burlington" for many years (most recently in 2021).
What Kind of Treatment Do Our Burlington Chiropractors Provide?
Treatments are provided for many different parts of the body such as the neck, lower back, shoulders, knee, wrist, ankle, and feet. Many different kinds of conditions are treated such as sprains, strains, nerve pain, posture, spine, shoulder, sports injuries, neck pain, migraines, headaches, and spinal and osteoarthritis, just to name a few. Treatment is done through a variety of muscle therapy techniques such as Active Release Technique (ART), Trigger Point Therapy, and Proprioceptive Neuromuscular Facilitated (PNF) Stretching. These longer, more comprehensive treatments may also include acupuncture, joint adjustments/mobilizations and physiotherapy modalities such as ultrasound, hot/cold therapy, and electrical stimulation.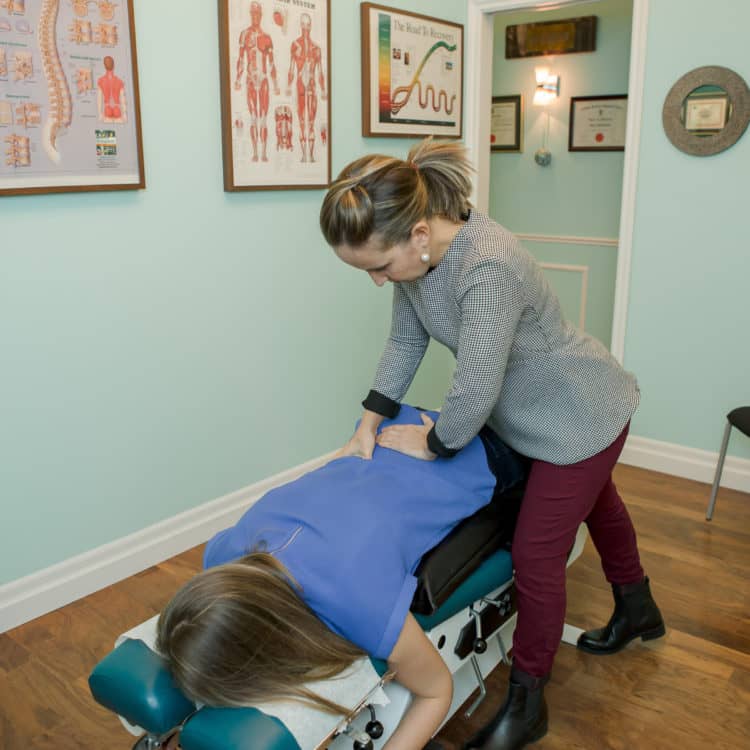 Importance of Exercise Rehabilitation
Doctors Maja and Cameron Edgar highly recommend combining their comprehensive treatments with rehabilitation exercises. They will provide stretches and exercises that are specific to the patient and their injury and will help the patient progress through these exercises until they are healed.
What our customers are saying
Doctor Maja and Doctor Cameron provide great chiropractic treatments at their family clinic. They take time to recognize the problem and work on it. The level of care and therapies they offer is very high and they're great health and wellness experts. They not only care about the specific problem we visit them with they are interested in our overall health and well-being.
Dr Maja and Cameron Edgar provide a great service. They are compassionate specialists who build great relationships with their patients. This clinic is undoubtedly an all-around 5-star for me. Both doctors know what they are doing. They have extensive knowledge about their profession. The clinic is very hygienic, cozy and quiet. Their staff is great too and always wear a smile on their face. Highly recommended.
Both the doctors and their staff at Edgar Family Chiropractic are very professional and provide excellent treatment. They truly want their patients to heal and try to help them as quickly as possible. They are great doctors. The exercises they recommend also help you recover more quickly at home. I would recommend them to everyone looking for chiropractic help.
The Ultimate Guide to Finding the Perfect Chiropractor in Burlington
Are you tired of living with chronic pain that hinders your everyday activities? If so, you're not alone. Many people in Burlington are searching for a solution to their discomfort, and that's where a chiropractor comes in. But with so many options available, finding the perfect specialist can feel like searching for a needle in a haystack. That's why we've created the ultimate guide to help you navigate through the crowded chiropractic landscape in Burlington. Whether you're seeking relief from back pain, neck pain, or even headaches, this guide will provide you with all the information you need to make an informed decision. From understanding the different techniques to knowing what questions to ask during your initial consultation, we've got you covered. Say goodbye to your pain and hello to a healthier, more vibrant life with the help of the perfect team in Burlington – Edgar Family Chiropractic.
The Importance of Finding the Right Practitioner
When it comes to your health and well-being, finding the right practitioner is crucial. Chiropractic care is a holistic approach to healthcare that focuses on the relationship between the spine and the nervous system. By manipulating the spine, chiropractors aim to alleviate pain, improve mobility, and promote overall wellness. However, not all are created equal. Each practitioner has their unique style, experience, and expertise. That's why it's important to take the time to find a chiropractor who is the perfect fit for you. By doing so, you can ensure that you receive the highest quality care and achieve the best possible results.
Understanding Chiropractic Care
Before diving into the process of finding a treatment provider, it's essential to have a basic understanding of chiropractic care. It is a non-invasive, drug-free approach to healthcare that focuses on the body's ability to heal itself. Chiropractors believe that many health issues are caused by misalignments in the spine, which can disrupt the nervous system's function. By using manual adjustments, chiropractors aim to restore proper alignment and restore the body's natural healing processes. It can be beneficial for a wide range of conditions, including back pain, neck pain, headaches, sciatica, and even digestive disorders. It's important to note that it is not a one-size-fits-all solution. Each treatment plan is tailored to the individual, taking into account their specific needs and goals.
Identifying Your Specific Needs
Now that you have a better understanding, it's time to identify your specific needs. What are the main reasons you're seeking treatment? Are you experiencing chronic back pain, neck pain, or headaches? Do you have a specific condition or injury that you're seeking treatment for? Understanding your specific needs will help you narrow down your search for the perfect chiropractor. Keep in mind that some specialize in certain areas, such as sports injuries or prenatal care, while others offer a more general approach. By identifying your specific needs, you can find a chiropractor who has the expertise and experience to address your concerns effectively.
Researching Chiropractors in Burlington
Once you know what you're looking for, it's time to start researching. Burlington has a thriving chiropractic community, so you'll have plenty of options to choose from. Start by asking for recommendations from friends, family, or healthcare professionals. Word-of-mouth referrals can be a great way to find a chiropractor who has a track record of providing excellent care. Additionally, you can visit online directories and review websites to gather more information about chiropractors in Burlington. Make a list of potential candidates, and don't be afraid to take your time with this step. Remember, finding the perfect chiropractor is a process, and it's worth investing the time to ensure you make the right choice.
Checking Credentials and Qualifications
When it comes to your health, you want to make sure you're in good hands. That's why it's crucial to check the credentials and qualifications of any chiropractor you're considering. In Canada, chiropractors must hold a Doctor of Chiropractic (DC) degree and be licensed by their provincial regulatory board. You can verify a chiropractor's credentials by checking with the regulatory board in your province. Additionally, you may want to look for chiropractors who are members of professional associations, such as the Canadian Chiropractic Association. Membership in these organizations indicates that the chiropractor is committed to upholding high standards of care and continuing education.
Reading Reviews and Testimonials
Another valuable tool in your search is reading reviews and testimonials. Online review websites, such as Google, Yelp, and RateMDs, can provide insights into the experiences of past and current patients. Pay attention to both positive and negative reviews, as they can give you a well-rounded view of a service provider's strengths and weaknesses. However, keep in mind that reviews should be taken with a grain of salt. Everyone's experience is subjective, and what works for one person may not work for another. Use reviews as a starting point but rely on your judgment and intuition when making a decision.
Scheduling a Consultation
Once you've narrowed down your list of potential chiropractors, it's time to schedule a consultation. A consultation allows you to meet the chiropractor, ask questions, and get a feel for their approach and communication style. During the consultation, the chiropractor will likely ask about your medical history, perform a physical examination, and discuss potential treatment options. This is also a chance to assess whether you feel comfortable and confident in the chiropractor's abilities. Remember, trust and open communication are key in any healthcare relationship. If something doesn't feel right during the consultation, don't hesitate to seek a second opinion or continue your search.
Questions to Ask During the Consultation
To make the most of your consultation, it's important to come prepared with a list of questions to ask the chiropractor. Here are some questions to consider:
1. What is your experience treating my specific condition?
2. What treatment techniques do you use, and why?
3. How many sessions do you typically recommend for my condition?
4. How will you track my progress?
5. Do you offer any additional treatments, such as massage therapy or acupuncture?
6. What is your approach to patient education and empowerment?
7. How do you handle emergencies or after-hours care?
Feel free to ask any other questions that are specific to your needs and concerns. A knowledgeable and caring chiropractor will be happy to address your questions and provide you with the information you need to make an informed decision.
Assessing the Communication Style and Approach
During the consultation, pay close attention to the chiropractor's communication style and approach. Are they attentive and actively listening to your concerns? Do they explain things clearly and in a way that you can understand? Do they encourage questions and engage in open dialogue? Effective communication is essential in a healthcare relationship, as it ensures that you and your chiropractor are on the same page and working towards the same goals. If you feel rushed, dismissed, or misunderstood during the consultation, it may be a sign that the chiropractor is not the right fit for you.
Considering the Clinic's Location and Convenience
When choosing a practitioner, it's important to consider the location and convenience of the clinic. Ideally, you want to find a chiropractor who is located close to your home or workplace. This will make it easier for you to attend regular appointments and ensure that you can fit chiropractic care into your busy schedule. Additionally, consider the clinic's hours of operation. Do they offer evening or weekend appointments? Flexibility in scheduling can be a significant advantage, especially if you have a demanding job or family commitments.
Evaluating the Cost and Insurance Coverage
Chiropractic care is an investment in your health, so it's essential to evaluate the cost and insurance coverage before making a decision. Chiropractic services are not typically covered by provincial healthcare plans, but many private insurance plans provide coverage. Contact your insurance provider to determine what is covered under your plan and what reimbursement options are available. Additionally, inquire about the cost of initial consultations, follow-up appointments, and any additional services that may be recommended. Keep in mind that while cost is an important factor, it should not be the sole determining factor in your decision-making process. The quality of care and the chiropractor's expertise should always be top priorities.
Making the Final Decision and Booking an Appointment
After conducting thorough research, attending consultations, and evaluating all the factors mentioned above, it's time to make the final decision and book an appointment. Trust your instincts and go with the chiropractor who makes you feel the most comfortable and confident in their abilities. Remember, finding the perfect chiropractor is a personal journey, and what works for someone else may not work for you. By following these steps, you're setting yourself up for success on your journey towards a pain-free and healthier life.
Maintaining a Long-Term Relationship with Your Chiropractor
It's important to maintain a long-term relationship to ensure ongoing care and support. Chiropractic care is not a quick fix; it's a journey towards optimal health and wellness. Attend regular appointments as recommended and follow their advice for at-home exercises, stretches, and lifestyle modifications. Openly communicate any changes in your condition or concerns that arise along the way. A strong partnership will help you achieve and maintain the best possible results.
Conclusion
By understanding chiropractic care, identifying your specific needs, researching, and asking the right questions, you can make an informed decision and find a specialist who is the perfect fit for you. Remember that this process takes time and patience, but the rewards are well worth it.
Hopefully, you will choose us, Edgar Family Chiropractic, and we can help you to say goodbye to your pain and hello to a healthier, more vibrant life with the help of the perfect chiropractor in Burlington.

Call Us 289-337-1202
Some of our awards