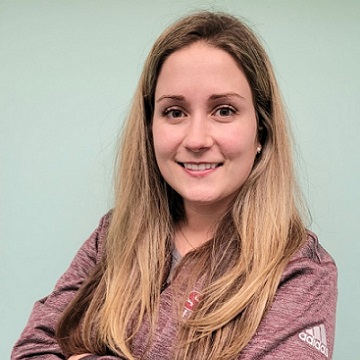 Registered Massage Therapist
Chelsey is a Registered Massage Therapist, graduating from the Ontario College of Health and Technology, and a Certified Athletic Therapist (CAT(C)), graduating from Sheridan College with a Bachelor of Applied Health Sciences, Athletic Therapy.
Chelsey specializes in:
Deep muscle therapy
Swedish massage
Joint mobilization
Myofascial release
Proprioceptive neuromuscular facilitation
Sports massage
Remedial exercise
She has also worked with specific populations, including professional athletes, pregnant women, and seniors. In addition to working at Edgar Family Chiropractic, Chelsey also works as an Instructor and Clinic Supervisor at the Ontario College of Health and Technology in the Massage Therapy program and is doing fieldwork with sports teams as an Athletic Therapist.
Born and raised in Burlington, Chelsey enjoys spending time downtown at Spencer Smith Park with her husband, 1-year-old son, 4-year-old stepson, and husky, as well as hiking, golfing, skiing, cooking, and reading.