How to choose the right one, and how to wear it right.
A properly fitted backpack is very important to ensure the wearers comfort and prolonged health of their back. With the school year starting it is important to address the key factors of properly fitted backpacks. If the bag is too heavy, too small, too large, or not worn properly the wearer can suffer from muscle strain, head aches, nerve damage, neck, back, shoulder and arm pain.
These are the important factors to remember when wearing and packing a backpack:
1. Backpacks should never weigh over 10% of the wearers body weight
a. For example, if the wearer is 100lbs their backpack shouldn't weigh more than 10lbs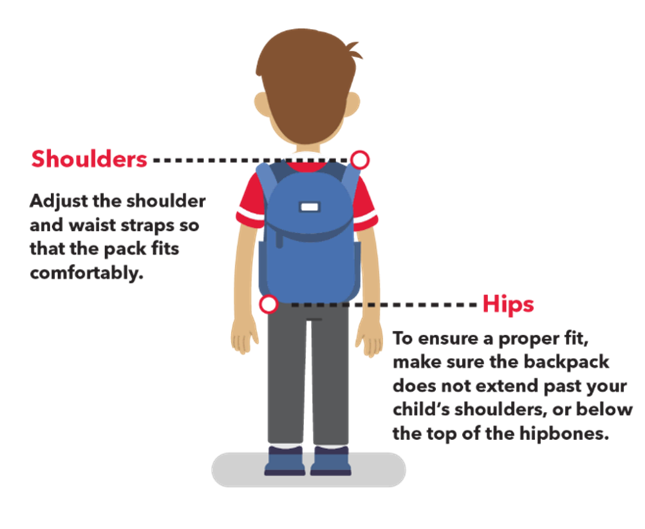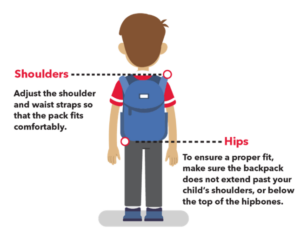 2. Choose the right backpack for you
a. Thick and wide straps for shoulder comfort
b. Compartments on the inside to help with even weight distribution
c. Waist strap to help carry and distribute the weight evenly
d. Padded back to ensure no oddly shaped items are pressed into the back
3. Always wear the backpack correctly
a. Wear both shoulder straps
b. Tighten straps so the bag sits comfortably on the back (not too snug under armpits and not
handing below the top of the hipbones)
c. Wear the waist strap to help distribute weight evenly along the back
Choosing the right backpack can be difficult but with these tips in mind it can be done successfully. By choosing and wearing the correct backpack you can maintain healthy muscles and not add extra strain to your back, neck and shoulders. If you are experiencing any muscle strain or pain you can call or email us to book an assessment for your earliest convenience.
If you are experiencing any muscle strain or pain you may find relief by visiting our chiropractic clinic in Burlington. At Edgar Family Chiropractic we offer: back pain treatment Burlington, neck pain treatment Burlington, massage therapy Burlington, and acupuncture Burlington. You can book an appointment by calling 289-337-1202, emailing [email protected] or online through our website (edgarchiropractic.ca).