More than just a treatment for Varicose Veins!
I have worn compression stockings for most of my career as a chiropractor because my feet are always cold and I usually get achy feet after working on them all day. I do not have varicose veins or any other circulatory issues but the stockings simply help to keep my legs and feet happy!
For those of us who are currently working from home and sitting for long hours, compression stockings can prevent aches and swelling in the feet. For all those who stand for long periods of time like myself (nurses, hairdressers etc.), compression stockings can help with circulation, providing comfort and helping to avoid tired feet at the end of a long day. For all the pregnant mammas, compression stockings can help avoid swelling in the legs and feet that sometimes happens during pregnancy. For the athletes who are trying to improve their recovery times and performance, compression stockings can also help!
Compression stockings provide effective relief for a wide range of conditions, from tired, achy legs, cold feet, swollen ankles and of course varicose veins. They work by gently squeezing your legs to move blood up your legs. The noticeable compression it exerts improves circulation in the legs, reduces muscle vibrations and speeds up recovery. Its light, breathable material is very comfortable on the skin. This makes it the ideal support. The stocking's taping zone helps to create a greater feeling of stability in the ankle, while its muscle-toning zone specifically stimulates the calf muscles during movement.
At Edgar Family Chiropractic, we carry a very high-quality brand of compression stockings called Bauerfeind (Bauerfeind is a German health care equipment company, one of the largest manufacturers of orthopaedic stockings and braces in the world) We offer a variety of different styles depending on the patients' lifestyle: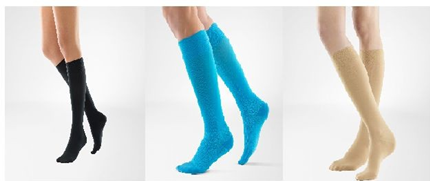 Business Style / Sports Performance / Discreet Style
Each style comes in various color options and are custom-fitted and measured. The best part is that these stockings are usually covered under most insurance policies!
Call your insurance company and see if you are covered OR give us a call at 289-337-1202 if you want to get started with your measurements and order!